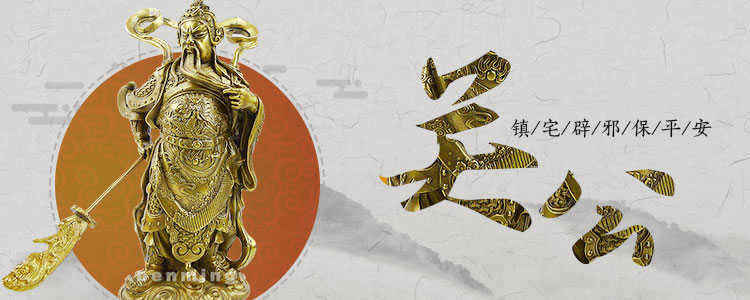 关羽是以忠贞、守义、勇猛和武艺高强称著于世,关公的"忠义勇武仁信"等品质集中了中华民族的传统美德,体现了民众的社会愿望 和理想人格,因此,他千百年来得到了世人的拥戴,被历代加封,宋代封为"显灵王",宋徽宗时封为"义勇武安王"。明神宗时将其神位晋级为"协天 护国忠义帝"、"三界伏魔大帝神威远镇天尊关圣帝君"。清代顺治皇帝加封为"忠义神武灵佑仁勇威显护国保民精诚绥靖佑赞宣德关圣大帝"。
关公的作用
在民间,关公是万能神(结义之神、商业之神、勇武之神、伏魔之神),既可镇宅辟邪、保佑平安,也可招财进宝、财源广进。
关羽摆放方法
1. 当大方向和关公像要面冲大门原则不合时,选择关公像要面冲大门。
2. 如果是公司里的关公像,最好是摆在公司大堂离门1/3的距离,而且要在中心位置放置。
3. 可把神位安放在入门前左方或前右方的适当位置,摆放时使关老爷面对大门即可。
4. 关公后面要有墙壁,就好比我们有靠山一样,一个人如果没有靠着墙也会随风倒所以供神也是如此。
5. 关公像刀尖朝上直立的,用来放在宽阔的中堂,功用是镇宅。
6. 关公像挥刀朝下的,用来放在室内的一些地方,功用是驱邪。也就是认为此宅经常有令人不安的因素,放置关公像来驱走邪气。
Guan Yu is known for his loyalty, integrity, bravery, and martial arts. Guan Gong's "loyalty, bravery, and benevolence" have concentrated on the traditional virtues of the Chinese nation, reflecting the social aspirations and ideal personality of the people. Therefore, he spent thousands of years Come and get the support of the world, it was sealed by the dynasties, the Song Dynasty was named "Xianling King", Song Huizong Shifeng was named "Yongyong Wu'an King". During the Emperor Shenzong's reign, he was promoted to "Xietian Protecting the Kingdom and Loyalty Emperor" and "Three Realms of Emperor Demon God Weiyuan Town Tianzunguan Shengdijun". The Emperor Shunzhi of the Qing Dynasty was sealed as "the loyal righteous deity, Wuling, benevolence, bravery, power, protect the country, protect the people, sincerely applaud, praise, praise, Xuandeguan, the Great Emperor".



Guan Gong's role
In the folk, Guan Gong is almighty god (the god of righteousness, the god of commerce, the god of bravery, and the god of fumo).



Guan Yu display method
1. When the general direction and the principle of Guan Gong want to face the door do not match, choose Guan Gong like to face the door.

2. If it's Guan Gong in the company, it's best to place it in the company's lobby 1/3 distance from the door, and place it in the center.

3. Place the god's seat on the left or right side of the door before entering the door.

4. There must be a wall behind Guan Gong, just like we have a pagoda. If a person does not lean on the wall, he will fall down with the wind, so the same is true for the confession god.

5. Guan Gong is upright with the blade pointed upwards and is used to place in a large hall. Its function is town house.

6. Guan Gong is like a sword pointing downwards and is used in some places in the room. Its function is to drive away evil spirits. That is to say, this house often has disturbing factors, and the Guan Gong statue is placed to drive away evil spirits.